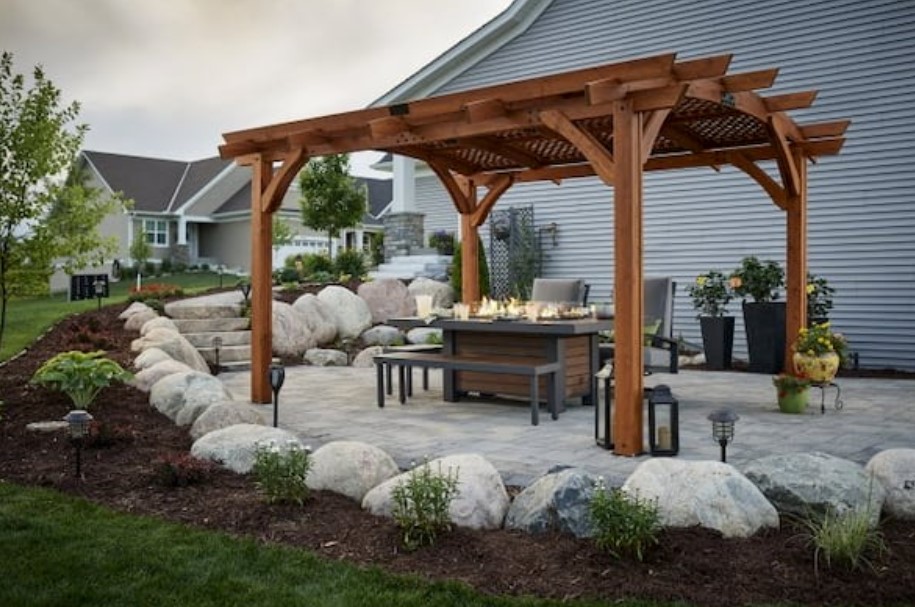 When designing your backyard living space, adding in a covered sitting or dining area can be a nice touch to make your space just as usable on sunny days as rainy days. There are several options for a covered sitting area, but each functions a bit differently.
Pergola
A pergola is a slatted-roof structure that provides partial shade to an area of your yard. It's great for gardens or other plants that don't require full sunlight, or just a nice lounging area. In addition, you can buy a retractable pergola cover if you want to convert your pergola to full shade. The best part about this option is that it's easy to purchase pergola replacement fabric if your covering gets damaged. 
Gazebo
A gazebo is similar to a pergola in that it is a raised wooden platform that can be used to house a seating area. The main difference is that it has a solid roof as opposed to slatted. A solid roof means it can be used rain or shine without the addition of a separate cover.
Awning
Awnings come in a variety of styles, from retractable to stationary. The benefit of an awning is that you can attach it to the side of your home to cover your existing patio or deck. Some removable options use a crank system to retract when not in use, while others require a complete take-down at the end of the summer season.
Pop-Up
Another option is a pop-up gazebo. These versatile tents have a fabric top and generally have screen sides, one or more of which will zip up to prevent insects from entering. Pop-up gazebos are a great option if your yard is on the small side or you don't want to commit to a permanent structure.
A lovely covered seating … Read the rest